The Right Builder – What We Do

Photo Attribute – Cetteup
We specialise in custom-built homes and renovations on the Northern Beaches of Sydney. We will build your dream home, start to finish, or give you that extra room you need with a renovation. We hold a fully unrestricted building licence and you have the option of using your creative designs or ours. If you decide to let us design your home, we have 3D software allowing you to virtually 'walk through' your new home or renovation, including placement of furniture!
Director Shaun Denton understands the imperatives of  maintaining design integrity providing the client with the very best in site management and trade supervision effective communication, from tender preparation to final completion
"We run on time and within budget, and through a procedure which ensures a high level of quality control. We only employ contractors who share a common commitment to quality workmanship."   Shaun Denton, Director, The Right Builder
Director Shaun Denton achieves the highest quality by personally project managing each job, ensuring you have one point of contact for the duration of your project, not a long chain of command.
Services The Right Builders provides are:
Top Storey Extensions
Custom Designed New Homes
Renovations
Full Project Management
Remedial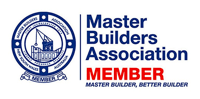 Member of the Masterbuilders Association of NSW
OUR PEOPLE – Why you're in good hands
As local builders to the Northern Beaches area of Sydney for over 40 years, Our objectives have been to build working partnerships with clients and companies who work in our industry.  Shaun Denton Building Pty Ltd engages only the best to perform these services.
The following listed trades have been working with our company for the following years;
Plumber – 22 Years
Electrician – 4 Years
Bricklayers – 10 Years
Plasterer's – 10 Years
Floor and Wall Tiler's – 21 Years
Carpenters – 3 years
Project Manager – Shaun Denton – Licensed Builder since 1986 – 32 years
This policy has enabled us to work together as a team and systemise much of the building process.
The benefits of this training is a more efficient workforce enabling more competitive pricing and a hassle free building experience.
We can provide the following services.
Architects – Due to the varied design requirements in the marketplace, we recommend the right Architects to create plans for your custom designed home or renovation…
Certifier – Our associates are the right certifiers to get the best results…
Fire Certifiers – Co-ordinates Fire Certification Consultants…
Structural Engineer – We use the engineer for the right job…
Basix – Experienced Basix certifier who we can consult with regarding options.
Hydraulic Engineer – At hand when required…
Landscape Architect – Ready and available for any requirements.
Council – Shaun Denton himself has vast experience dealing with the council process.
Whether it is just submitting an application or dealing with a dispute.
Experience is the key.